Coach Casey our lecturer at BCB
Dwane Casey at Basketball Clinic in Belgrade this summer. NBA Coach of the Year and NBA All-Star Game head coach.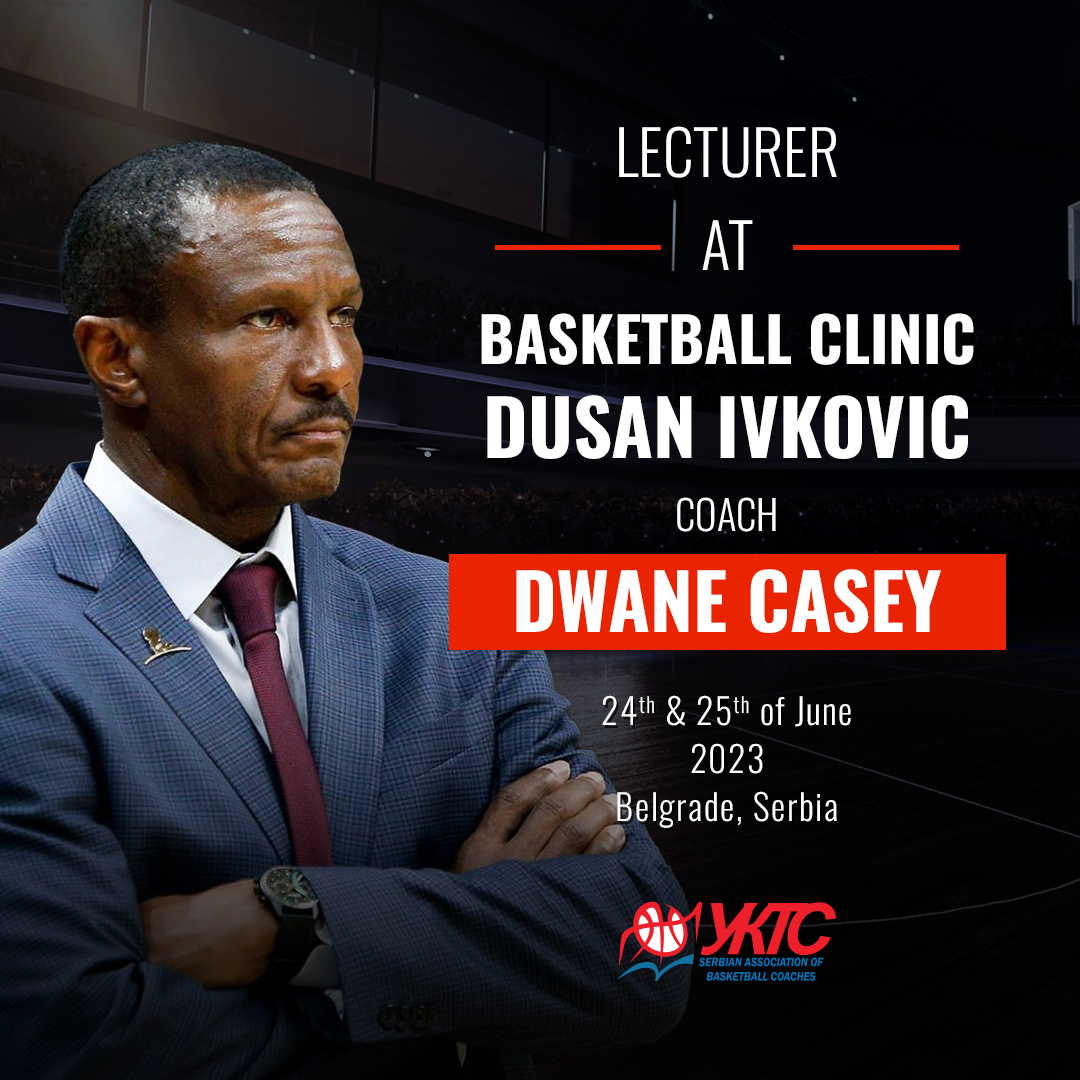 We are pleased to announce a 2011 NBA Champion, Coach Dwane Casey.
Coach Casey will be our next lecturer at Basketball Clinic Dusan Ivkovic that will be held on 24th & 25th June 2023, in Aleksandar Nikolic Hall, Belgrade Serbia.
In his first year as the Pistons Head Coach, Coach Casey led the organization to its first NBA Playoffs appearance since 2016. Prior to his time in Detroit, Coach Casey was the Head Coach of the Toronto Raptors (2011-2018) and the Minnesota Timberwolves (2005-2007); he was also an Assistant Coach for the Dallas Mavericks (2008-2011) and Seattle SuperSonics (1994-2005). As the Raptors Head Coach, Casey held a 320- 238 regular season record, leading the team to four Atlantic Division Championships 🏆 and five straight NBA Playoff appearances (2014-2018). The Raptors also had a franchise record of 59 wins in the 2017/18 NBA Season; for these efforts, Casey was both awarded in 2018 NBA Coach of the Year Award🏅and the Michael H. Goldberg NBCA Coach of the Year Award🏅. Coach Casey was also a part of the Dallas Mavericks coaching staff that won an NBA 🏆Championship in 2011.
We invite all coaches that would like to participate and hear all the lectures, to register at:
http://www.ukts.rs/klinike/application-bcb/
Note that registration is needed for all coaches that are not members of Serbian Association of Basketball Coaches.
For all details and more information about the Basketball Clinic, follow us on our social media and visit regularly our website.
See you in Belgrade!
---
Podeli na društvenim mrezama:
Nema komentara. Budi prvi...